Shopping
For the days when we feel like fashion victims, we can leave the hostels in Neustadt and cross the majestic August Bridge and end up on the other side of the Elbe in the baroque Old Town. Of course, you will find large shopping malls here, such as the Altmarkt-Galerie or the Centrum Galerie. The historic shopping mile, Prager Strasse, built between 1851-53, promises a special shopping experience. This stretches from the main railway station far into the city centre towards the castle, where you will of course find the world's most important trading houses, as in every relevant major city.
Old town side
The old town offers breathtaking views, historical monuments and international boutiques. It is also the right district to buy some beautiful souvenirs:
If we want to discover the handmade treasures of Erzgebirge craftsmen, we can visit Tradition & Form. This shop offers Christmas decorations such as the famous Schwibbogen, children's toys and handmade ornaments. Small pieces made with care and love for beauty, ideal for a small gift of value.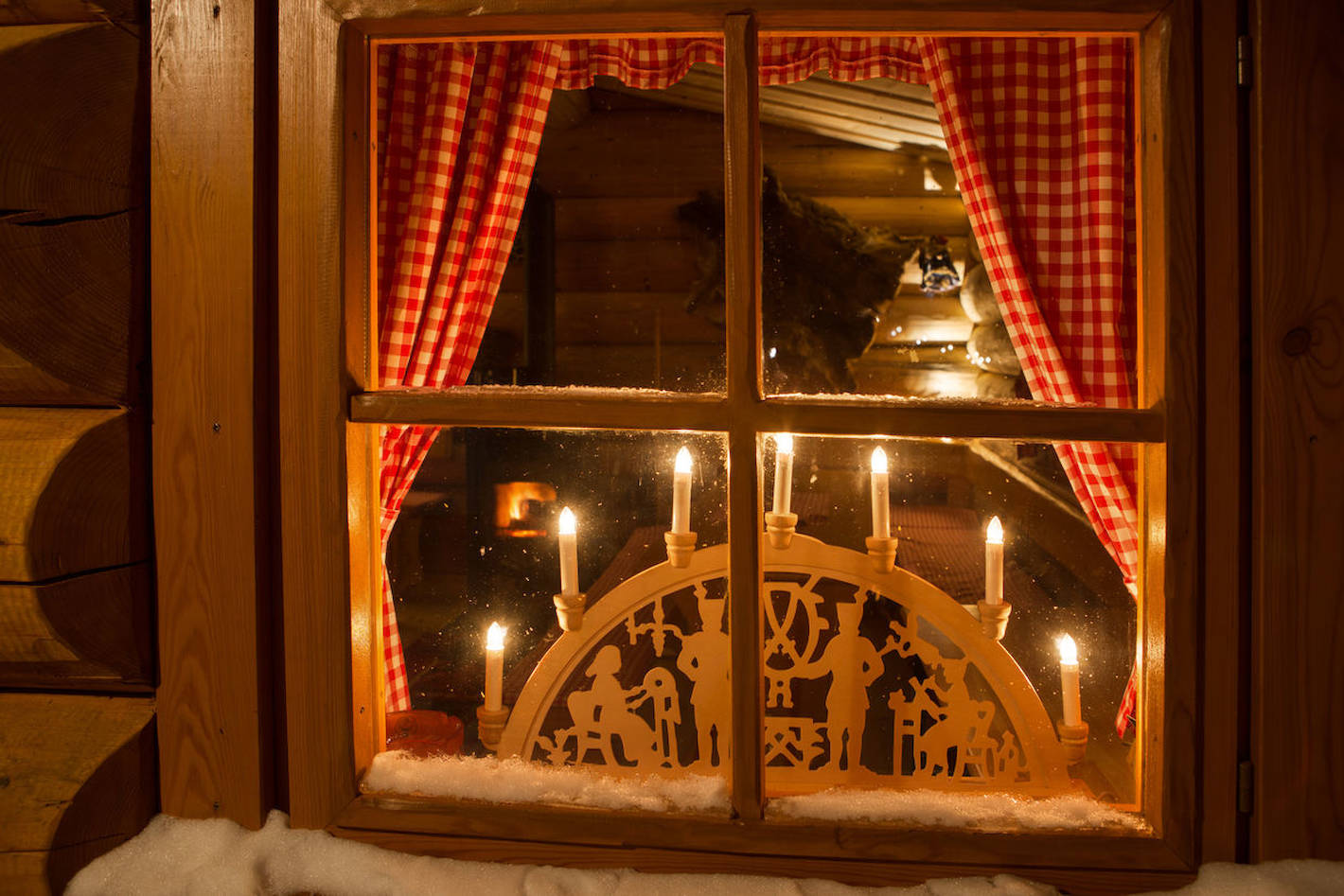 Another magical place that takes us back to the city's past splendour is Fürst Romantik und Nostalgie shop. Directly under the Brühl Terrace, just a few steps from the Residence Palace, this nostalgic and mysterious cave offers not only classic souvenirs, but also interesting antiques and traditional sweets.
New Town side
Strolling through the Old Town, we find all kinds of shops and international boutiques, including the most popular ones. However, if we are in the mood to discover little secret places and local artisans, we can go for the colourful variety of local shops in Dresden Neustadt, in the immediate vicinity of the hostels Lollis Homestay and Mondpalast.
Lying in the sun by the Elbe is nice and chilled, but we might be missing something: a nice read! Then we could go to the famous Louisenstraße in Neustadt and find a great selection at Büchers Best. This cosy bookshop-café is run by Jörg (Stü)! It is a space to experience, whether for a reading, a coffee or a literary event.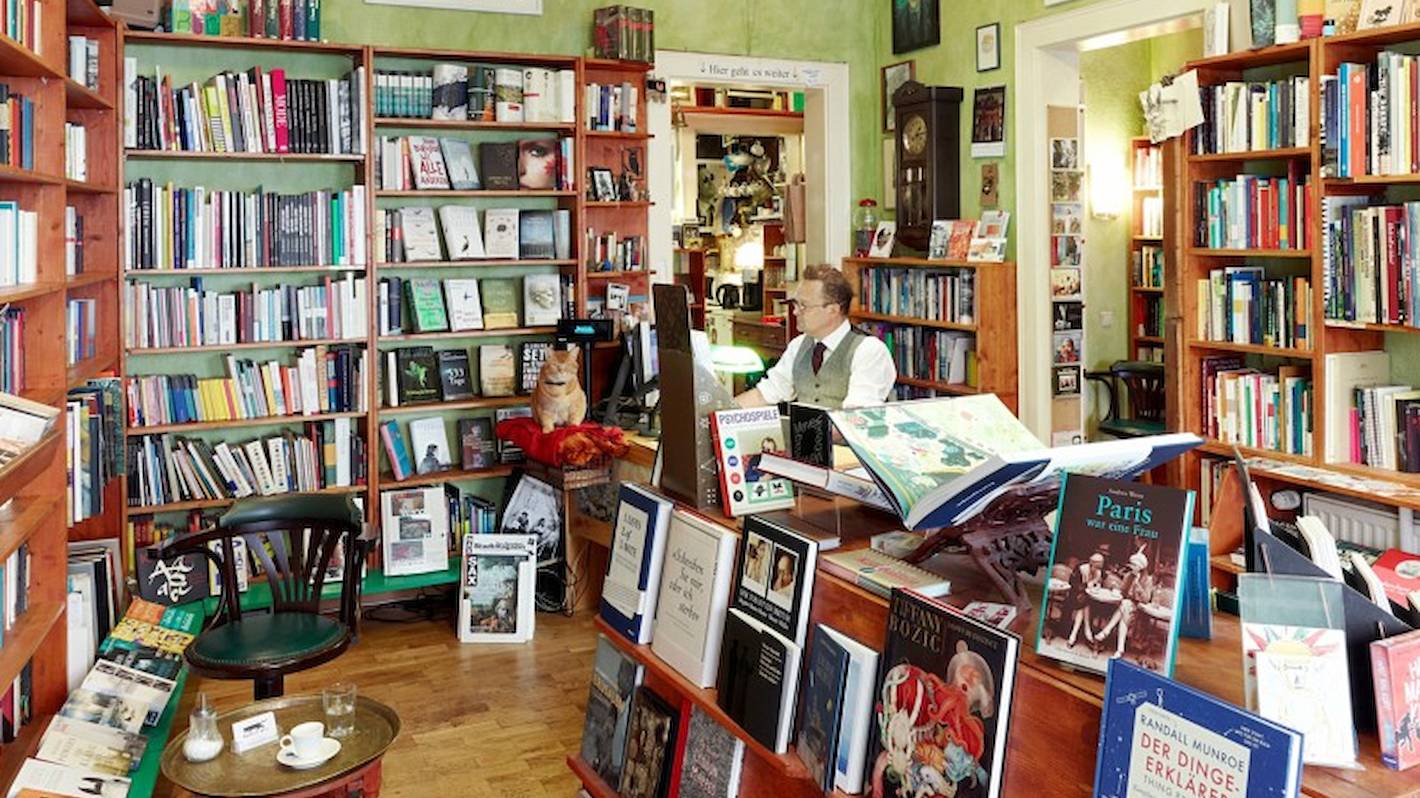 In case we want to plan another trip or decide on a next destination to Dresden, the charming Reisebuchladen (travel bookshop) is just a few steps away from Jörg. More of a small house than a shop, its blue ground-floor windows look out onto busy Louisenstraße.
But maybe today we feel more inspired to listen to good music instead of reading some books. Maybe we can bring some new records home from Dresden to enrich our collection and impress our friends. When we're in a musical mood, we can't help but walk past 3 record specialists within a few minutes' walk of each other: Fat Fenders Recordstore, specialising in electronic music for DJ's, and Drop-Out Records respectively, and ZentralOhrgan, two traditional record shops not far from each other with a wide selection of different music styles. In search of musical treasures, we also walk through the most emblematic streets of the Neustadt.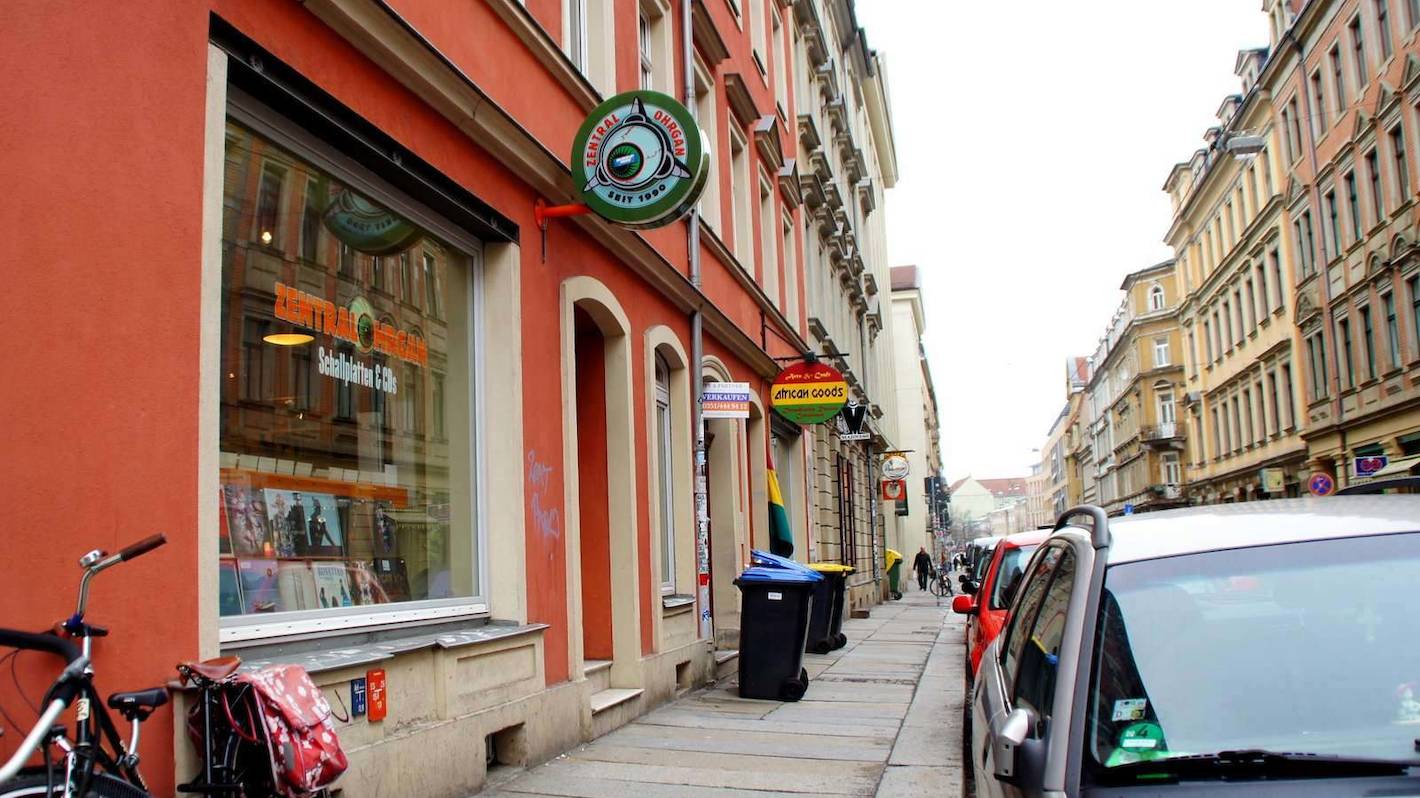 Later, when we're sitting in Alaunpark with our friends and looking for some distraction, two places are just right for us: Capito, the games shop, and Chillhouse Dresden Neustadt. In the first, a paradise for playful people, we can buy any kind of board game or toy we can imagine. The second, as the name suggests, offers other kinds of relaxation to share with friends, such as the colourful shishas peeking out of the windows.
clothes shops in the new town
Neustadt is a district full of diversity and different styles. Its residents and visitors always feel comfortable, whether they are wearing pyjamas or an elegant evening dress. Freedom of expression here also includes clothing, which is why the neighbourhood's clothing shops offer all varieties of styles and prices.
Maybe we're looking for a new outfit for the next techno music festival: Crispy Bacon is the right shop for us, and its owner Clemens Wiemer (also known as Format C:\) sells a fine selection of Hardtekk and Bassmusic records! Possibly we want to go to a metal concert instead and feel closer to the gothic style: then we shouldn't miss Abaddon Mystic Store! If our plans for the next few days only include outdoor activities and hiking in Saxon Switzerland, we can buy the necessary technical equipment at Hütte - Bergsport & Outdoor or Bouldercity. On the other hand, if we simply run out of clean underwear and don't have time to wash it before we leave, we can stock up at the cute little Infit Lingerie & Underwear.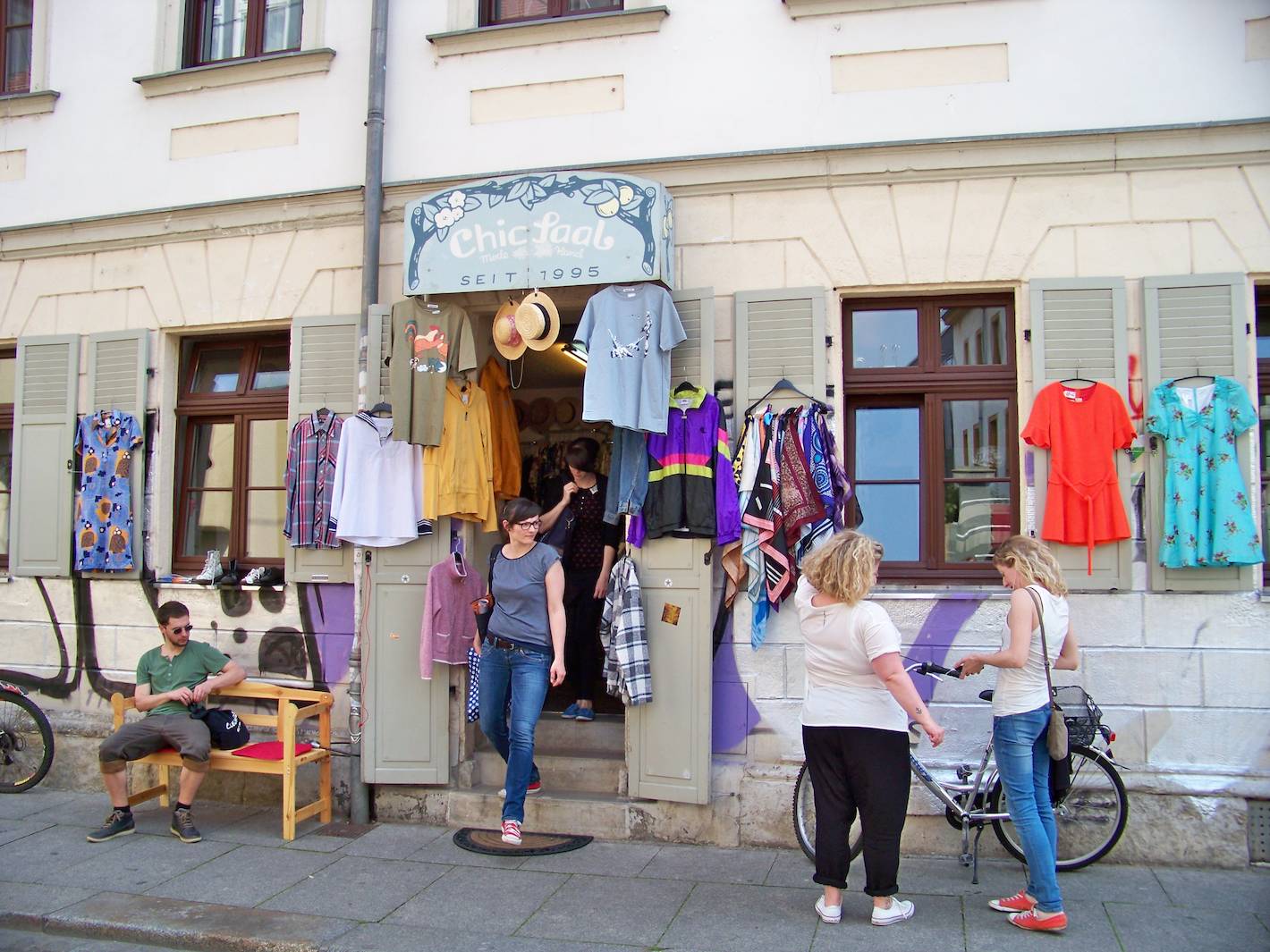 To complete our style, a visit to Amethyst - edle Steine & Schmuck, is a must: here we find jewellery designed and made in unique pieces or limited series with stones, silver and steel.
If we don't want to sacrifice style but at the same time care for the environment and social issues, Neustadt offers many solutions. The best known is Tranquillo, a shop for fair fashion and lifestyle in organic quality. Alternatively, we recommend some of the beautiful and well-stocked second-hand shops, including Chicsaal and Humana Secondhand & Vintage, where we can browse for the most beautiful vintage clothes, especially in the basement.
art supplies
Neustadt is also the artists' quarter, so it's easy to get inspired by the vibrancy of the street art, the different architectural styles and the characters of the neighbourhood while strolling through the colourful streets. Let's take the plunge and create our own souvenir from Dresden: what could be better than a creation of our own making?
It could be a small musical composition, so let's head to Musikhaus Neustadt - B-Music by 2pim. This shop is a landmark for people in the neighbourhood, not only because it offers musical instruments of all kinds, but also because it is located at one of the four corners of the famous "Assi-Eck", a meeting place for everyone who feels at home in Neustadt, whether native or foreign.
But it could also be a drawing or painting in oil or watercolour. These and other materials are all available at the historic shop Malkasten, a must for all artists.
Many small shops invite you to stroll around
To marvel at the colours and quirky architecture of the district and lose yourself in shopping in a magical place full of small shops, then head to the Kunsthof Passage. This is a project born in the late 90s to revitalise run-down backyards in Dresden's Neustadt district. Each courtyard takes up its own theme and shows it in its façade design.
There is a wide range here: from new and second-hand clothes in the huge and well-stocked Mrs Hippie, to items for spiritual well-being in the Feng Shui Haus, from innovative objects in the interactive space of DN Mai Creative works to the fragrant teas in Teerausch, which also hosts seminars and events.
"Späties"
At the end of this day of shopping and discovery, we will probably be dead tired and would love to sip a beer in the Alaunpark or, why not, sit in the famous Assi-Eck to adapt to local customs right away. Maybe it's getting late and the supermarkets are already closed, then it's off to the last shop of the day, a must for anyone spending the night on the streets of Dresden: the Späti, the starting and ending point of every party night in the city, an oasis of calm for the thirsty, the hungry or those who have run out of cigarettes when everything is closed.
Two of our favourite Spätis are ABC Frueh and Spaetshop, because of the friendliness and smiling faces of the managers, and Emma No. 1, because of the variety of wines and the Polaroids of customers and patrons displayed in the window: if we are photogenic enough, we might be lucky enough to be photographed and displayed in the window!