Gastronomy
For gastronomy lovers, we have many secret insider tips to find delicious delicacies. In Dresden you can easily find restaurants with dishes from every country of the world. Many Dresden restaurateurs have travelled the world and brought back new knowledge to combine international dishes with local traditions. The slow food trend is also practised and refined in Dresden restaurants. If you seek for local ingredients and gently, slowly prepared meals, you will get your money's worth.
wine
Germany's northernmost wine-growing region lies around Dresden. There are many wineries between Radebeul and Meißen, which can easily be reached by public transport from the hostels Mondpalast and Lollis Homestay (for example Aust winery). High-quality white wines in particular are produced here. Such as, Goldriesling, which cannot be found anywhere else in Germany, as well as the well known Saxon products: Müller Thurgau, Traminer and Weißem Burgunder.
breakfast
But let's start the day from the beginning with a good breakfast! If we don't want to have breakfast in the hostel, we have plenty of alternatives in the Neustadt. Café Continental, as the name suggests, offers any kind of breakfast, sweet or savoury, until 6pm: if we've been partying until the early morning and we want to sleep in, we still have time to have a good breakfast to start the afternoon off right! If we're really hungry, we will always find a great brunch at Blumenau Café and Bar or at the "Bottoms Up" at the weekend..
Some of us may be fans of cakes for breakfast. The best tip for you is the cozy Café Tanteleuk, which offers very delicious coffee and many kinds of homemade cakes. Also ideal for vegans!
For those who cannot start the day without a strong espresso, we recommend the bar-restaurant La Moka: run by Italians, this place is ideal if we want to have a good coffee and maybe take the opportunity to buy quality ingredients to cook ourselves an authentic Italian pasta later in the hostel.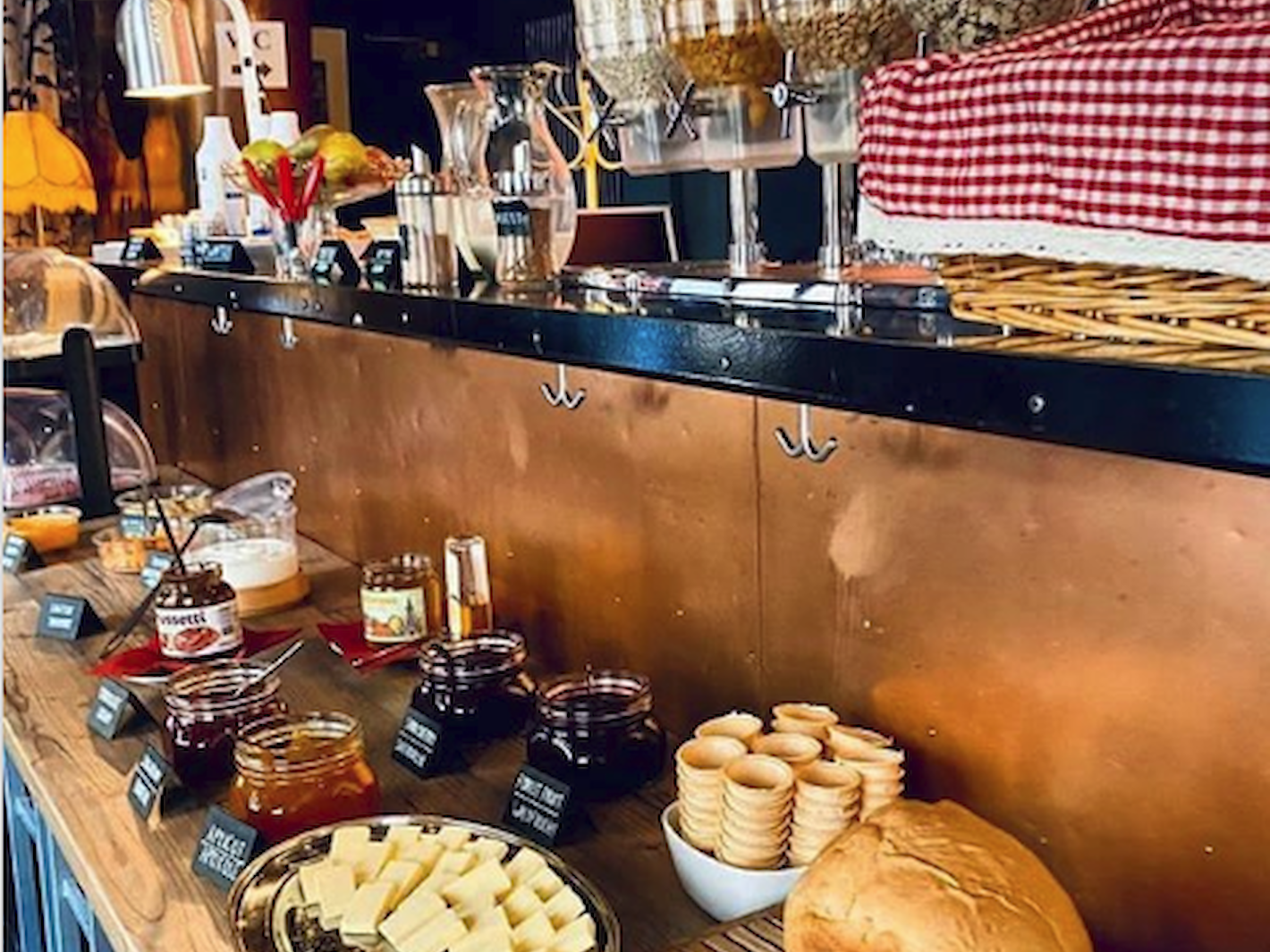 bakeries
If it's a nice day today and we want to start sightseeing and experiencing the city right away, we can stop by one of the city's many bakeries and buy something to eat while sitting by the Elbe before crossing the bridge and starting our tour of the old town. Here we are really spoilt for choice, because if there's one thing that never misses in Germany, it's bakeries! Below are just a few tips....
Dresden is known as the city of origin of the famous Christstollen. Local bakers still make this Christmas cake by hand, using the original recipe from the 14th century. That's why you absolutely have to try it, even in the middle of summer. Every year there is a competition to assess the best Stollen in town. One of the best last year was Graf bakery, where we can of course also find many other baked goods, in case we are not sultana fans!
If we feel like something more exotic and elaborate, the French bakery Emoi Patisserie & Café is the place to go. A true "goldsmith" of pastries, it is known in the city for its fabulous almond croissants.
Just a few steps away from Émoi, we find a bakery with a completely different concept. It is called tag2wei bakery and its philosophy is against food waste and stands for conscious shopping. In fact, this bakery offers goods from the day before as well as from production surpluses in high quality at fair prices. The baked goods come from 6 bakers in the area and all unsold goods are donated to Foodsharing and other social associations after closing time.
lunch
If we are still very hungry for lunch, we can try the typical Saxon and Bohemian cuisine: let's prepare our stomachs and try to take time for a power nap after lunch, because these dishes are delicious but quite demanding! In the Alstadt, the perfect setting for a traditional meal are the Altmarktkeller brewery and the Gasthaus am Neumarkt.
In the beautiful surroundings of the former industrial complex Kraftwerk Mitte, we would like to recommend Neue Sachlichkeit, a young and fresh establishment where German cuisine is reinterpreted with dishes that change daily, paired with wines from small local producers.
Just a few steps away from the statue of the Golden Rider, on the edge of the Neustadt, is the Wirtshaus Am Thor, which offers typical Saxon (but also German dishes) at relatively reasonable prices.
For an authentic local experience, we recommend the Planwirtschaft in the Neustadt. In the early 90ies, much wilder times then, you only got admission through special contacts and got drunk there until the early hours of the morning. Today, this pub and restaurant is more than 30 years old and its décor and crockery are reminiscent of the GDR. The food and drinks on offer include regional products, some of which are organic.
Last but not least, we recommend the Boehme Restaurant, which is just a few steps from the hostels and offers a fine selection of German dishes, including vegetarian and vegan options, as well as very good wines.
Cafés and ice cream
After lunch, which we might digest while riding on a bicycle along the Elbe river, we could also treat ourselves to a small snack.
If you fancy an ice cream, the perfect spot is just around the corner from the hostels: Don't miss Café Komisch, which offers a soft ice cream that attracts children and adults from all over the district, as well as many other sweet specialities.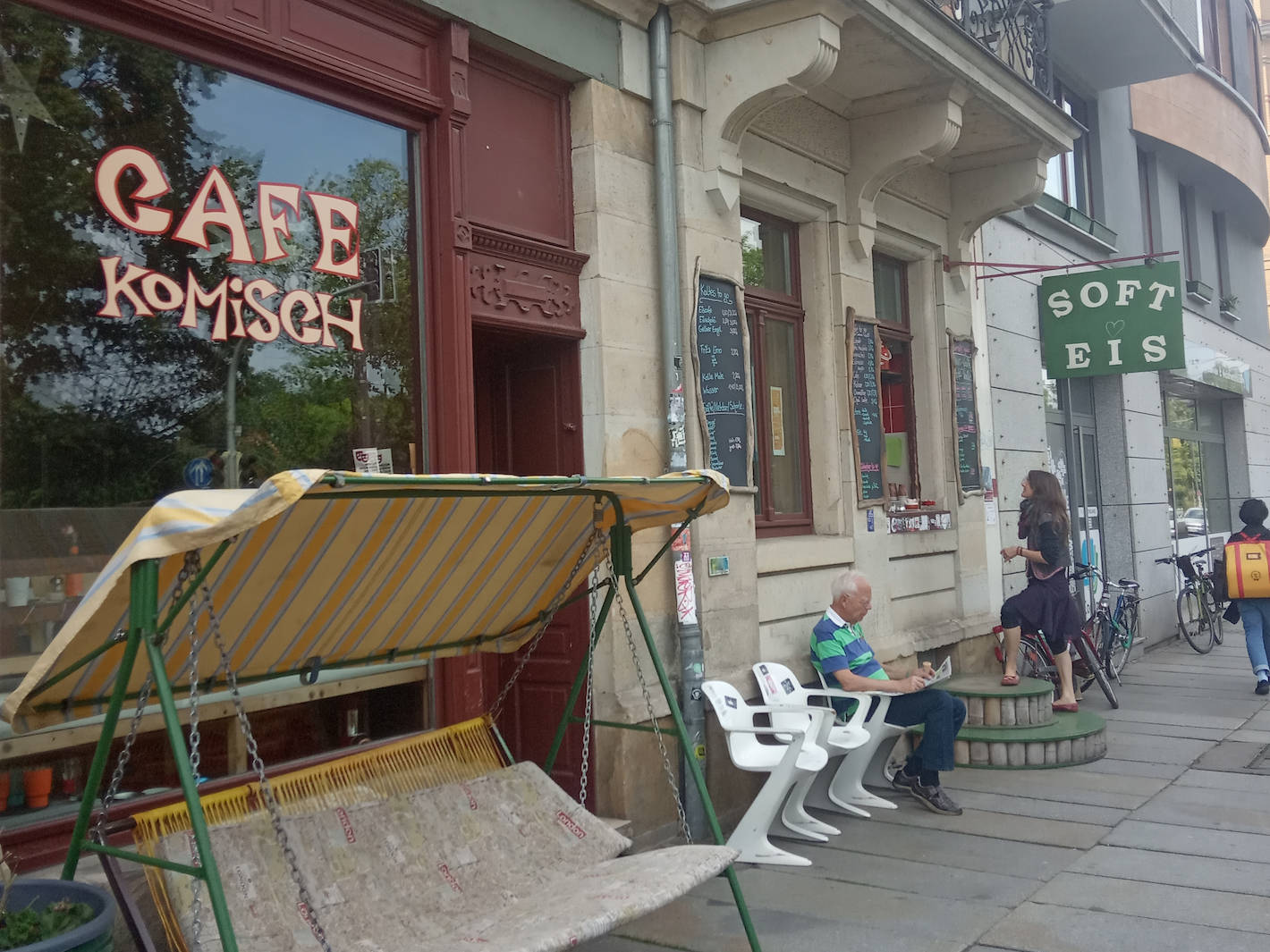 We will always find a good solution against sugar lows in Neustadt: the Schokoladenbar, for example, presents its chocolate specialities in a retro setting. For a good coffee or a slice of Eierschecke in a colourful and lively décor, we then move on to the Café of the Scheune cultural centre or the KAWA Espressobar.
Those of us who would like to enjoy a cup of tea surrounded by small Art Nouveau works of art can cross the river, walk into the Old Town and sit just a stone's throw away from the castle in the Kunst Café Antik. And if you want a snack and a delicious cappuccino as well as a taste of the city's history, you can go to the Käseglocke. This café is interesting not only because of its special architecture, which the name "cheese bell" recalls, but also because it was built and inaugurated on Postplatz back in 1928. Miraculously, the former bus shelter was almost the only structure in the old town to survived the night of bombing on 13 February 1945 without damage.
fast food
international cuisine
For dinner we are really spoilt for choice: after a real German lunch, we might now be in the mood for an internationl change. There are many restaurants of this kind in Dresden. Again, the Neustadt, which has always been a district of integration and is a cultural melting pot, has the widest choice.
In the Thai restaurant Hot Shüzzle we can try the real Bangkok street food, served by the always smiling and very friendly Num. If we are in the mood for comfort food, we should try the Japanese ramen from Ramen 1974. It will warm our bellies and we will really feel like we are in a bistro in Tokyo.
For a decidedly different atmosphere, we can choose Pelmeni Bistro Samowar, a Russian restaurant specialising in pelmeni, a stuffed pasta typical of Siberia. In a Soviet-style décor, with an almost life-size mural of Putin, we are served by the restaurant's owner, a lady who is always very busy: she cooks and serves all by herself!
A few streets away, in the "Hecht district", we find the delightful Memo Palestinian Bistro. This is a must for all lovers of Middle Eastern cuisine. The managers are very friendly and helpful, in keeping with Palestinian hospitality. Other ethnic restaurants we would like to recommend are then: Namaste, La Cubana, Little India, Sapori d'Italia, Anamit, Codo Deli, MEG Algerian Cuisine, Mikado, Jaipur, Raskolnikoff.
If our finances are a bit more limited and we prefer to cook something in the hostel without giving up an exotic touch, we can buy the ingredients to prepare specialities of Latin American cuisine at El Mercadito, a colourful shop a few steps away from the hostels.
vegan food
organic and fair
Gourmet
It could also be that we want to treat ourselves to a little luxury for one evening and dine in a gourmet restaurant. Maybe we have a hot date, maybe we just want to give ourselves a special moment. Well, in that case, we can recommend the Villandry Restaurant, where dishes based on regional products, fine wines, a charming courtyard and the knowledgeable and friendly staff create an unforgettable all-round experience.
For unforgettable dinners and events, we recommend Elements and Genuss-Atelier. For an excellent dinner followed by excellent cocktails, we recommend VEN. If we want to try meat specialities of the highest quality, we definitely have to go to (m)eatery and Estancia.
Well then...bon appétit!